Welcome to the Skylander Character Creator Wiki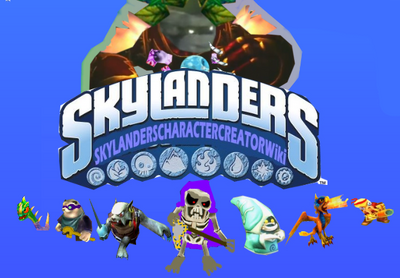 This is a CC for skylanders. You must contain: Story, Catchphrase, Species, Every attack and a soul gem upgrade and bonus power, and element. Add your skylanders to categories, so we can identify them! And don't forget to enhance your game, by adding worlds, new things and more! Ask Kriztian Milanes for help if needed. Don't forget to visit our featured page! Skylanders: Multiverse! Also we now include reposed skylanders such as Filthy Rich Trigger Happy and Moonlight Star Strike, nut they must have their images and their new WowPow!
More Fannon The wiki is called Skylander Character Creator, but we also include made-up Games, Triple Packs, and Adventure Packs.
News
S2 is rolling in! Claim a slot on the talk to get you skylander a S2! 6 per person. You must enter the skylander and a picture of the repose. I have Heatwave and Falcannon taken. 22 slots left! Admins get 10 slots instead.
New Update!!!
Now we are allowing new things such as villains! You may create your villains as trappable ones or non-trappable such as the main villain. We even include bosses, which you can add statistics and everything, and not to mention basic enemies such as chompies and trolls! Go now and extend your games and our wiki!
Personal Favorites
Also, add your favorite Skylanders on this wiki! Post the pictures of them in this gallery!
Rules
No cussing or trolling
Respect other user's skylander pages
Respect your fellow users
Polls
Who is your favorite Skylanders Multiverse skylander?
Which is your favorite game?
Latest activity